Quality service
you can count on
Quality service
you can count on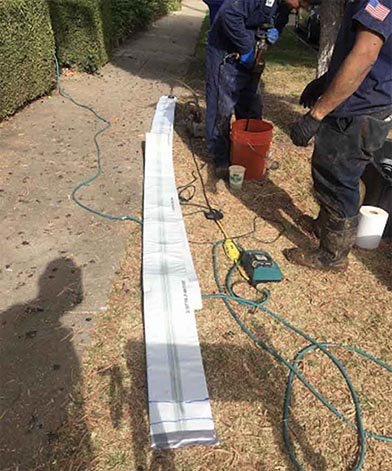 Hiring a plumber in Pasadena, CA, from LeadingEdge Plumbing & Rooter doesn't have to mean stretching your budget – or sacrificing your landscape. We say this because one of our common recommendations is trenchless pipe lining.
Here's why we recommend this approach to pipe restoration:
It's Less Disruptive
What's also known as cured-in-place piping or CIPP pipe lining is less disruptive from start to finish. Because the work is done within the existing pipe, there's no need for excavation. We also don't need to use heavy machinery or have a large crew on your property.
It Extends Pipe Life
Sewer pipe lining can extend the lifespan of pipes and minimize the need to worry about full replacement anytime soon. During the pipe lining process, a new coating is applied to the inside of the affected pipe with an inflatable and removable liner. Once the coating hardens, you'll have a like-new internal pipe surface.
It Works on Older Pipes, Too
Another reason we recommend trenchless pipe lining is because it works on older pipes as well. This can be beneficial if you have older cast iron pipes that are still stable but affected by corrosion and age-related wear. When used for this purpose, CIPP is referred to as cast iron pipe lining, although the process is the same.
It's Faster and More Budget-Friendly
What's also good about trenchless pipe lining in Pasadena, CA, is that the process can often be completed in a single day. In addition, it's a budget-friendly option since less labor is involved, and there's no significant post-project cleanup to deal with.
LeadingEdge Plumbing & Rooter is one of the leading pipe lining companies because of our efforts to save customers like you time and money. One way we do this is with trenchless repair methods. Contact us and we'll let you know if trenchless options are right for your situation.

As a new customer, we'll give you a $50 discount on your plumbing repair.