Spare Your Home from Harm With a Sewer Inspection
Quality service
you can count on
Quality service
you can count on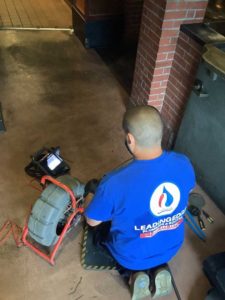 Sewer inspections may not be the most glamorous aspect of homeownership. However, they play a crucial role in protecting your property from costly and potentially dangerous issues. This preventive measure can help you identify red flags early and enlist sewer repair services in Granada Hills, CA, immediately. LeadingEdge Plumbing & Rooter explains how regular inspections can save your home in the long run.
Avoid Sewer Backups
Sewer backups occur due to various reasons, such as clogs, pipe damage, and tree root intrusion. If left unchecked, they can cause extensive damage to your home. Worse, it can pose health hazards by exposing your family to raw sewage.
A sewer inspection can identify any blockages or damage to your sewer line that could lead to a backup. By catching these warning signs early, you can have a professional conduct sewer line repair before they get the chance to wreak havoc in your home, saving you time, money, and hassle.
Prevent Major Damage
If you have a broken sewer line, wastewater can leak out of the pipes and seep into the ground surrounding your home. This can weaken the soil, affecting your home's foundation and causing structural damage. You can steer clear of this issue in the first place with an in-depth inspection and prompt sewer pipe line repair.
Improve Property Value
If you plan to sell your home, don't skip inspections, as it ensures your sewer line is in good working order. In turn, it gives your potential buyers peace of mind that they don't have to deal with an untimely sewer line replacement after purchasing your property.
Never overlook the importance of regular sewer inspections. If you need to get your sewer system assessed, turn to the pros at LeadingEdge Plumbing & Rooter right away. You can also rely on us to repair or replace sewer line. Contact us to schedule an appointment.

As a new customer, we'll give you a $50 discount on your plumbing repair.