Sewer Line Issues That Pipe Lining Can Address Trenchless
Quality service
you can count on
Quality service
you can count on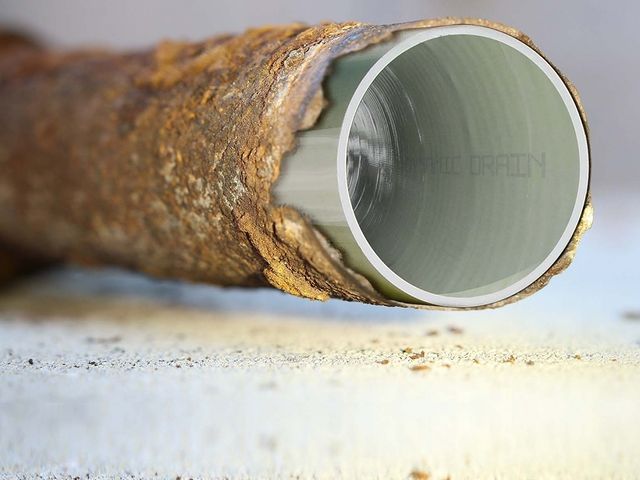 Trenchless pipe lining in Van Nuys, CA, is one of the most efficient and reliable sewer repair methods known today. Pipe lining, and many other services from LeadingEdge Plumbing & Rooter, allow us to solve plumbing issues without performing invasive and tedious tasks that traditional methods offer. Here are several sewer line problems that this technique can address:
1.  Corroding and Damaged Pipes
Sewer pipes, especially those made of cast iron, are subject to corrosion over time. Since soil, waste, and various chemicals and liquids surround these pipes, they can cause cast iron to wear out and deteriorate quickly. Once that happens, they will begin to leak and eventually collapse, compromising your drainage and sewer system.
Pipe lining companies can extend the lifespan of your damaged sewer lines with trenchless restoration methods. They fix cracks, gaps, and other problems and prevent them from recurring any time soon by creating a new pipe within the old pipe.
2.  Invasive Roots
Once tree roots begin to invade your sewer pipes, they create holes and cracks while preventing waste from escaping the system. Even after the tree roots are removed, the pipe is still broken and incapable of driving wastewater out of the sewer line. That's when we provide professional cast iron pipe lining to rebuild the pipe and restore it to excellent working condition.
3.  Leaks in the Sewer System
Leaks can make it difficult for sewer pipes to do their job. They can also make room for mold growth, water damage, and sewage backup. Always consult a professional right away if you notice warning signs of a leaking sewer system. We'll perform CIPP pipe lining to seal your sewer lines and prevent leaks from recurring in the long term.
When it comes to sewer pipe lining, look no further than LeadingEdge Plumbing & Rooter. As the go-to sewer repair company for more than 15 years, we take pride in our efficient process and customer-first approach to meet all your needs. Contact us today to schedule an appointment.

Join our newsletter and receive $50 off your first plumbing repair!