Ideal Places to Install Your Tankless Water Heater
Quality service
you can count on
Quality service
you can count on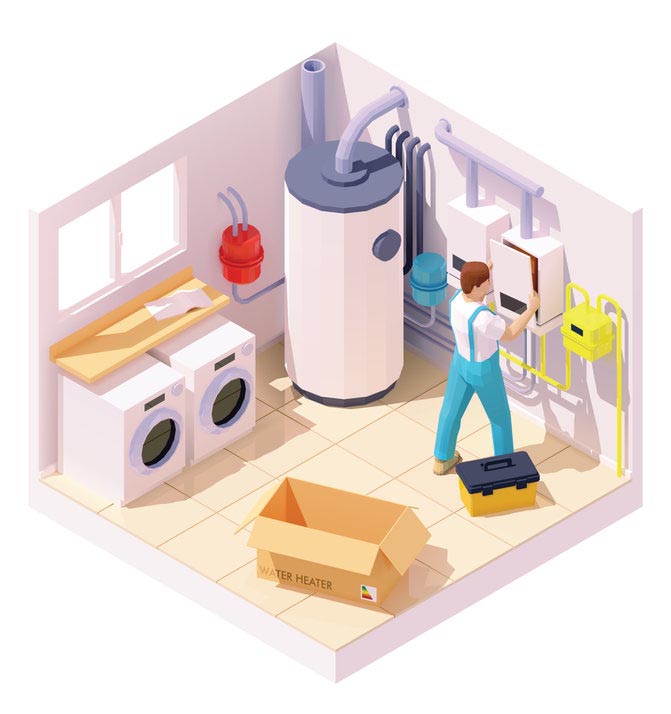 If you're planning to invest in a tankless water heater, one of the major factors to consider is where to mount it. After all, the location of a water heater determines its efficiency. However, choosing the best place for your unit can be challenging. Lack of planning can result in poor water flow, inconsistent water temperatures, frequent repairs, or even damage to the entire system.
Fortunately, unlike traditional units, tankless water heaters occupy less space. If you're considering water heater replacement in Northridge, CA, experts at LeadingEdge Plumbing & Rooter recommend you place your tankless unit in one of the areas listed below.
Kitchen
Since a tankless unit is small, you can place it inside the pantry or under the kitchen sink. Keeping the water heater close to your kitchen faucets will help ensure you access hot water quickly and minimize the amount of heat lost when the water flows through the lines. However, you should ensure the unit will be easily accessible for water heater repair in Northridge, CA.
Bathroom
A cold shower can be refreshing on a scorching summer day or after a physical training session. However, most people prefer a steaming shower throughout the rest of the year. But with a conventional water heater, someone flushing a toilet or running a sink can leave you with a sudden stream of cold water running down your body. Having a plumber in Northridge, CA, install a tankless unit in your bathroom allows you to enjoy a steady supply of hot water for your showers.
Laundry Room
If you want to make your home greener with a new water heater installation, consider placing your tankless unit in the laundry room. With a tankless unit, your washing machine will only use as much water as it requires and only when it requires it. As a result, you'll save on your annual water bill down the road.
Count on LeadingEdge Plumbing & Rooter for reliable water heater maintenance, installation, and repair. To learn more about tankless water heaters, call us today. You may also schedule an appointment.

As a new customer, we'll give you a $50 discount on your plumbing repair.