Tub Repair in

San Fernando Valley, CA and Nearby Areas
Taking a bath is supposed to be a relaxing, luxurious experience, but when your tub is outdated, in disrepair, or needs some repairs, it can be stressful and uncomfortable to think about. When you draw a tub, you want to be able to take a moment away from the world, relax, and take care of yourself. When your tub is in less-than-great condition, this time may be spent thinking about repairs, the cost of replacing your tub, bathroom renovation expenses, and more. Instead of worrying about these things, contact the team at LeadingEdge Plumbing today to learn more about how we can help you make repairs to your tub in a cost-effective manner and give you the upgrades that you deserve.
Read more below to get a better idea of some common tub repairs available in San Fernando Valley, CA and nearby areas. Keep in mind that most, if not all tub repairs are very specific to the type of tub, the material it is made from, the way it is installed in your bathroom, and more. If you are unsure of how to proceed with your repairs, or if you would like to rely on an experienced professional to handle the repairs for you, contact us now so we can discuss your ideas. We will be happy to explain how we can help you, give examples of past repairs we have done that would be similar to your own needs, and more.
Contact us as soon as possible to get your tub to the condition that you want it in, so that your next bath can be as relaxing and enjoyable as it should be.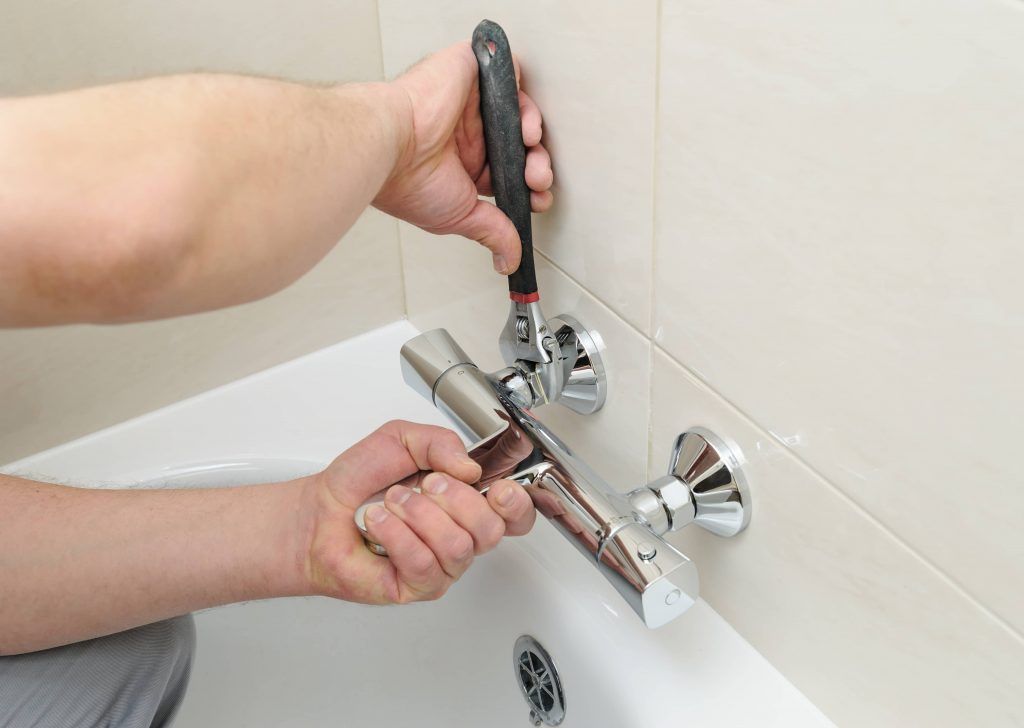 Types of Tub Repairs
The following are a few examples of common tub repairs that a homeowner may do themselves, or may hire a professional to help them through the process. As we have already mentioned, the actual method for repair varies depending on the type of tub, the material that the tub is made from, how the tub is installed, and much more. The best way to determine what repairs are possible and how they can be done is by contacting us as soon as possible and speaking with an experienced professional.
Chipped Enamel
If your tub is coated in enamel, there is a significant chance that the enamel will chip, showing the cast iron or other material underneath it and creating an unsightly blemish. Depending on the main material of the tub, this chip can lead to rust spots and streaking, waterlogging, and more serious damage that can compromise the structural integrity of your tub over time.
Rust Spots and Streaks
Rust can form as a result of chipped enamel, as mentioned above, but there are a variety of other ways that your tub can be overwhelmed by rust, too. While chipped enamel may be one common way that this happens, you may have additional attachments that are rusting or the tub may be installed in a way that it comes in contact with another material that causes distracting and ugly rust streaks and drips down your otherwise-spotless tub.
Broken Jets
If you paid to have a tub installed with water or air jets, then a broken jet can be very frustrating. All too often, an issue with the jet system can lead to a homeowner letting their jet tub go to disuse when the repair could be easily done by an experienced professional. If you are experiencing an issue with the jets in your tub, whether they are performing inconsistently or have completely stopped functioning entirely, contact us now so that we can get your tub back to working condition as soon as possible.
Leaks
A leaky tub can cause chaos for your bathroom walls and floors, leading to dangerous conditions of rot, mold, and even structural issues because of waterlogged or decaying framing. As soon as you suspect that you have a leak in your tub, contact a tub repair professional in San Fernando Valley, CA and nearby areas to get this repaired before the issue creates many more problems for you.
Clogged or Faulty Drains
When your tub drain doesn't work the way it is supposed to, it can lead to standing water, smelly pipes, and a variety of other problems like scum lines and stains from stagnant soapy water and more. In many cases, a clogged drain can be fixed with a simple snake, but in other cases may require a professional snake to clear the entire drain line, sometimes tens or hundreds of feet beyond the drain hole itself.
Types of Tubs
A tub can come in many shapes and sizes depending on preferences, needs, aesthetics, practicality, and more. Each type has it's own benefits and drawbacks, some are easier to repair than others, and some tubs may require a specialist to ensure that it is restored properly. If you are unsure about the type of tub you have or the type of repair methods required for your own situation, we will be happy to help you. The following list is not comprehensive but is only intended to provide a few different examples.
Standard Tubs
As the name implies, this is the most common type of tub in an American home. They do not have anything special like air or water jets, and more often than not they are used in a shower-tub combination, where showering is the primary purpose of the appliance. A standard tub can be installed as a standalone tub, such as the iconic "claw foot" tub, or can be installed in an alcove or as a drop-in.
Soaking Tubs
A soaking tub is fairly similar to a standard tub, but with higher sides for a full soaking experience. Standard tubs to not offer any real option for deep water and a truly luxurious bath, but if your priority is to take a proper bath then these types of tubs may be a better option. These tubs are typically more expensive than a standard tub, if for no reason other than the additional material required to make it.
Jet Tubs
Tubs with jets come in two forms: whirlpool and air tubs. Everything in each of these tubs can be exactly the same, but the difference is whether water is shot out of the jets (whirlpool tubs) or air is shot from the jets (air tubs). These options create a different experience depending on what you are going for. A whirlpool tub is generally intended to focus water pressure at specific muscle groups in order to provide a massage-like experience, while air tubs are typically designed for a relaxing experience without attention or pressure on any particular area.
Walk-In Tubs
For a truly luxurious experience, a walk-in tub can be the ultimate bath for many people. Additionally, these tubs are ideal for the elderly or differently-abled people who would like to install assistive devices in order to help them in and out of their tub. As you can imagine, these tubs are more expensive than most other options simply because of the complexity of the installation and the size of the actual units. These are great options for a variety of different consumers, and we will be happy to discuss the pros and cons with you in greater detail.
contact leading
edge plumbing & rooter
If you need a plumber in San Fernando Valley, CA, contact LeadingEdge Plumbing & Rooter for all of your plumbing repairs and installations. Call us at 888-525-3234 to set an appointment. We'll be happy to set up an appointment time with you when you need us to take care of any plumbing issue.

As a new customer, we'll give you a $50 discount on your plumbing repair.